If you want to contact the Swedish Peat Association
E-mail:
info@svensktorv.se
​
Adress:
Branschföreningen Svensk Torv
c/o Hasselfors Garden
Box 1813
701 18 Örebro
Sweden
Sustainable peat farming in Sweden, Finland and Estonia - a comparison
2021-01-31

Vapo Oy is an international group owned by the Finnish state (50.1%) and Suomen Energiavarat Oy (49.9%). Vapo Oy has now compiled an account of sustainable peat farming in Sweden, Finland and Estonia.

The comparison shows that Swedish peat farming does significant climate work in the form of the after-treatments that cause greenhouse gas emissions to cease and instead become carbon sinks and negative emissions. In addition, the raw material peat can be utilized to ensure Sweden's food supply and afforestation.
The report may be disseminated, indicating the source Vapo Oy.
download report as pdf.
Information on LULUCF actions by Sweden
Final report
This information on LULUCF actions by Sweden responds the request set out in article 10 of Decision [529/2013/EU] on Land-Use, Land-Use Change and Forestry.
Download report as pdf
Comments on the European Commission's draft delegated act on climate - related objectives in taxonomy
2020-12-18
The EU's new taxonomy classifies which investments are environmentally sustainable. The Swedish Peat Associationv writes in its response to the draft that the taxonomy ordinance should not be adopted for the following reasons: Peat should be considered a resource by restoring the leaking, ditched peatlands after harvest and becoming efficient carbon sinks and valuable environments for plants and animals. The after-treatments must be classified as negative emissions.

Read Swedish Peat Associatiaons answe here
Download as pdf here
Greenhouse gas emissions from rewetting of completed peat extraction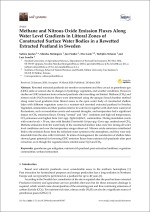 Peat as a co-combustion fuel/fuel additive to biomass for reduced ash related problems in heat and power generation plants – A summary of the state of knowledge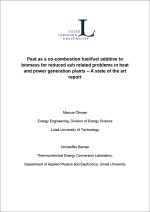 In Sweden and Finland, a relative large number of combined heat and power (CHP) plants are today using or have recently used co-firing of peat- and biomass fuel blends. Operational experience and earlier research has shown that such co-combustion of woody fuels and peat considerably extends the life of super-heaters and minimizes the occurrence of bed agglomeration in fluidized beds. In addition, it has been shown that it also can reduce fine particle emissions in small- and medium scale fixed bed applications.

Download the summary from the report >>
OIf you want the full report, contact info@svensktorv.se .
Peat; production, use, environmental impact
Last year, Responsibly Produced Peat focussed on spreading awareness about what actually needs to be done for certification of peat production locations.
Peat statistics - SCB >>
RPP Newsletter 4 - 2019
2019
Last year, Responsibly Produced Peat focussed on spreading awareness about what actually needs to be done for certification of peat production locations.
Read PRRs newsletter here >>
In fond memory of Claes Rülcker
2019
It is with great sadness we have to inform that Claes Rülcker, Managing Director of Svensk Torv (Swedish Peat) and the Swedish Peat Research Foundation passed away on the 19th July at the age of 63. Internationally, Claes Rülcker had a position on the Board of IPS and was the Swedish representative in Growing Media Europe.

Red more about Claes Rülcker >>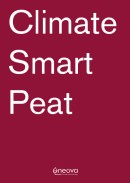 Climate Smart Peat
​New research into peat and peatlands shows that drained peatlands are leaking huge amounts of carbon dioxide into the atmosphere. Of no use. The leakage is so large that it exceeds the total carbon dioxide emissions from all domestic traffic in Sweden. It is a problem and we have the solution. By harvesting the renewable resource - peat from drained peatlands - we see to that it can come to good used. Download pdf >>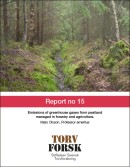 Greenhous gases from drained peatland
Report no 15
Peat is an organic soil that is accumulated because water saturation and lack of oxygen has substantially reduced the decomposition of plant residues. Sweden has around 10M ha of peat covered land whereof 6M ha is categorized as peat land because the peat layer is thicker than 30cm. About 2.6M ha of the peat land is hydrologically more or less affected by ditching in order to enable forestry or agriculture. This report aims at describing greenhouse-gas balances at this hydrologically affected land in a boreal environment, and is based on a large number of scientific reports.
​Download report >>
Climate project
Emissions of greenhouse gases from peatland managed in forestry and agriculture
Climate project, Mats Olsson 2014-07-07 (Translated from the original Swedish by Jay Hennessy) Download pdf >>
Here you will find information from GME on our site.

Swedish Peat Association
Branschföreningen Svensk Torv • c/o Hasselfors Garden • Box 1813 • 701 18 Örebro • Sweden • info@svensktorv.se