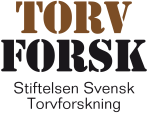 PROJEKT STIFTELSEN SVENSK TORVFORSKNING
Global Strategy for Responsible Peatland Management

​Gemensamt projekt med IPS för att finna en form av certifiering för en hållbar användning av torvmarker. Saxat ur rapporten: The purpose of the Strategy for Responsible Peatland Management (SRPM) is to:
- communicate a common understanding of the importance of different types of peatland, communicate the consequences of their utilisation and management, demonstrate to authorities and the public, commonly agreed principles of the 'Wise Use of Peatlands' outline the actions that need to be undertaken to implement these principles.
​
The strategy presents a common understanding of key principles and strategic objectives for peatland management. It acknowledges adverse impacts of peatland use and proposes mitigation measures to redress these and promote planned after-use of drained peatland.
​
It expresses the views and commitment of stakeholders and interested parties to improve peatland management. The interested parties to whom the strategy is addressed include peatland managers, industry, NGOs, relevant legislators and policy makers nationally and internationally and the public. The strategy is applicable to different types of peatland in every country in which this biological resource is found or that uses peat products.
​
Projektet är finansierat via IPS. TorvForsk har i egenskap av Nationell kommitté av International Peatsociety deltagit i arbetet kring projektet. Projektet pågår fortlöpande i IPSs verksamhet. En redovisning och ett seminarium kommer att äga rum under Kongressen.
​

Branschföreningen Svensk Torv · Stiftelsen Svensk Torvforskning
c/o Neova • Arenavägen 33 • 121 77 Johanneshov • info@svensktorv.se